School pupil visit to our Department in March 2017
On the 16th March, we had our annual Classics Schools' day. Pupils from four local schools attended the day and took part in workshops and talks by our academic staff as well as an object handling session at the Egypt centre. Pupils from Castle School in Pembrokeshire reflect on their experience:
Swansea University
We arrived at Swansea at about 10:30 at the large, phenomenal university. We were a bit late due to traffic and parking problems but that didn't matter much! On the way to the entrance I couldn't help but notice the big buildings and the green garden areas. Beautiful. The inside was equally as nice and after getting lost we found our way to the first talk. Sadly we had missed a bit because we were late.
When we got there (a bit late because it takes an hour to get there and there were some traffic and parking problems) we saw lots of people, so it must be a big university.
Classics in Wales
The first talk was taken by Dr. Evelien Bracke. It was about the Romans and some Roman artefacts in Wales. It was very interesting. She talked about some Roman Artwork and buildings in Swansea that were inspired by Roman architecture. The students mentioned many museums in Swansea that held proof that the Romans did play a big role in British society. In fact we had just recently visited Caerleon where there is a theatre and some cool Roman baths. It's amazing there.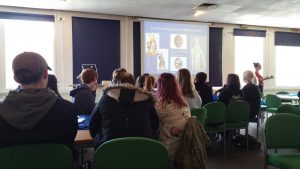 The Egyptology Centre
When the talk ended we made our way to the Egyptology centre. We got to hold artefacts that were over 3,000 years old! My favourite artefact was the necklace made out of glass beads and real gemstones! After we handled the artefacts we looked round the Egypt centre then we went outside to explore the campus of Swansea University. It was a huge place full of busy people and huge buildings. There was also a garden and a sun dial!
The Egypt Centre was probably my favourite part of the trip. We got to hold many ancient artefacts from the Egyptian time. The artefacts were all very detailed and interesting. My favourite thing was the eagle eye from the statue. It was extremely delicate and I was quite scared that I was going to drop it. I also liked the papyrus paper, but it was really thin and I didn't want to rip it. After that we went to the gift shop. There were loads of really nice things in there, however, I got a pretty turquoise stone that had lines of blue and green on it.
Some active learning
After that we had a talk on images of power from the ancient times to today. It was very interactive as the lecturer, Dr Stephen Harrison, made us stand up, turn in a 360 degree circle and he made someone do 5 push-ups! In this talk we learned about empires and how people controlled them. We learned the Alexander the Great had to change his appearance to get noticed.
One of the most memorable moments in the second talk was when Dr. Steven Harrison made all of us do weird things like star jumps and spinning. It was really funny when he made two boys in our class do press ups. The third talk He was making us do this because his talk was on images on power. He said men with longer beards that kind of go all round their faces look more wise and powerful. Also Dr. Steven mentioned Alexander the Great who tried to rule two countries at the same time and made people unhappy because he changed his clothes to appeal to everyone. In the end he was killed in battle.
I learnt that having a long beard is great for ancient Persia but nowadays you have to be orange to get power (Donald Trump) and use a pointy finger!
My most memorable moment of the visit was when Dr Stephen Harrison got me to do press-ups in front of everybody so to show how he was commanding me to do something and how it worked. This was my favourite moment because it showed how everybody could see my true face.
Ancient Novels
When the talk ended we saw our last lecture. It was about 'pirates and true love' novels. We learned about some famous novels and even saw some extracts from them! The lecture was by Dr Ian Repath.
Finally we had our last talk by Dr Ian Repath which was all about "ancient Greek novels" pirates and true love. It was a well made and presented talk, for it included lots of essential facts on the subject. I learned many new things such as that most love stories in ancient Greek all had roughly the same story base. The lovers are split up and they search for each other and in the end they are reunited. Like I have said previously it was a very fact packed talk.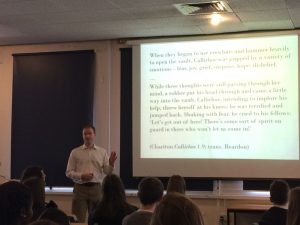 Final thoughts
My favourite part of the trip handling the artefacts and my favourite talk was the lecture on images of power because it was interesting and interactive. I would like to find out more about classics because they are interesting and I could learn a lot.
Many thanks to everyone who put on the Classics Day Trip, as it was a most thoroughly enjoyable day.
The Classics day was an absolute blast and I learned so much I want to go again.
The Campus Tour was really good as I got an insight of university life and what university is like. It was such a great experience for me and I'd like to thank everyone at the university for a great and interesting day. Thank you.
Overall it was an amazing trip and I would definitely recommend going there. I would have liked to have stayed there for even longer but we had to go. The University is amazing and the campus looked really good too.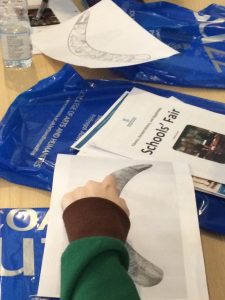 Written by pupils of Castle School Pembrokeshire
NB: The department would like to thank Silke Davison, Megan Hitchen, and Alex Nethell for their invaluable help throughout the day.
You can find more images and tweets from the day here: https://storify.com/nimuevelien/classics-schools-day-at-swansea-university