Swansea Summer School in Ancient Languages 2017
In July and August of this year, the Department of Classics, Ancient History and Egyptology hosted our third Summer School in Ancient Languages. Building on the success of previous years, this year we welcomed more than 35 participants, both new and returning, from a wide variety of backgrounds, cultures, ages, and walks of life, from the UK, Europe, and beyond. Supplemented by our experienced language tutors and co-ordinating staff, the Summer School this year has offered not only high-quality language teaching in Latin and Ancient Greek, but also a number of extra-curricular activities, including talks by local and national lecturers in the field of Classics. Heading the Summer School this year in her first year in charge was Dr Catherine Rozier who, with the help of her team of students, has supported tutors and students alike in order to allow them to work at full capacity. This year's Summer School has continued the tradition of going from strength to strength, with many noting the high standard of teaching, and the rigorous, but enjoyable, content.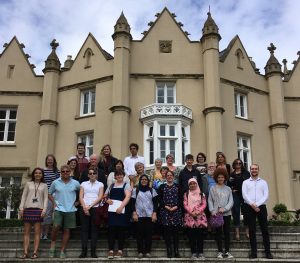 The Summer School welcomed back two returning tutors, Ms Meiros Richardson and Ms Susan Jenkins, as well as two brand new faces in Ms Kathryn Webb and Dr George Gazis.
The new tutors quickly integrated themselves into the community, being seen around campus and at a number of extracurricular events. George even captained the winning Pub Quiz team! The feedback for all the tutors was incredibly positive, with unanimously high scores across the board in our Participant Questionnaire. Feedback such as "Great teacher. Couldn't have a better one", "the teacher was excellent, I learned a lot" and "a wonderful learning experience" only seems to reaffirm the positive reaction to both new and returning tutors.
  This year the Summer School ran a total of four classes: Beginners' Latin, Post-Beginners'/Intermediate Latin, Intermediate-Advanced/Advanced Latin, and Intermediate-Advanced/Advanced Greek. The participants have three one-hour lessons a day, barring Wednesday where they have two, for a total of 14 teaching hours per week. In between classes, participants are given reading, translation and grammar questions to do as homework, depending on their level. The students often spent this time in the summer school Common Room, discussing translations, gerundives, the passive infinitive and the like over coffee. Herein lies the crux of the Swansea Summer School: informal lessons, where Latin and Ancient Greek are discussed alongside relevant literature, akin to a reading group. This fosters a sense of community within the Summer School, where participants thrive off interactions amongst their wide-ranging peers to create a rigorous, but fun course. Thus the common room and the classrooms were a hub of activity throughout the fortnight as each participant got into the spirit of the event. Finally, participants were able to undertake an (optional) test at the end of each week, in order to 'test their mettle' so to speak. Some leapt at the opportunity with confidence, whilst others were less sure of their ability – they needn't have worried. The test results were all outstanding, with many participants achieving 80%, and one Latin student scoring 97%! All participants were then given classically-themed certificates to honour their effort and achievement.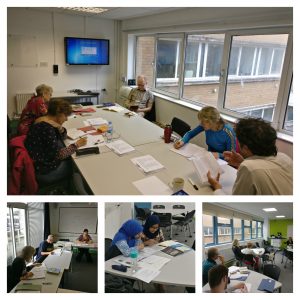 Participants used their free time to do a wide range of extracurricular activities. Some explored the campus, many ventured across the main road to Swansea's beach, where some of them were even lucky enough to enjoy some sunshine! Others went further afield, exploring some of Gower's many picturesque walks, whilst Catherine (and her dog Daisy) led a beach walk along the coast to Langland Bay (with time for ice cream of course!).  On campus, the Summer School itself hosted a number of events, in the hopes of providing entertaining, informative, and (in the case of the Pub Quiz) challenging content. A number of Swansea University lecturers gave talks on topics such as Dr Simon John's 'Medieval Wales: A Traveller's Guide' and Dr Stephen Harrison's 'Alexander the Great and the Creation of History', as well as talks by lecturers from outside of the university such as Dr George Gazis' 'Memory in the Underworld'. A number of students also participated in the highly-competitive Summer School Pub Quiz, which saw Team Outis narrowly defeat Team Moros and obtain their kleos, in a quiz containing rounds on both contemporary and ancient topics (the spoils – chocolates – were shared, however). Finally the School put a number of film showings, screening the Cohen Brother's unusual, but classically-inspired, Hail, Caesar, and Terry Jones' The Life of Brian, for a bit of light-hearted comedy relief at the expense of the Romans.
  This then brings to an end another year of the Swansea Summer School in Ancient Languages. Thanks to the guidance of Dr Catherine Rozier, and the help of the Week of Work students Maddy Young, Anna Ruscoe, Laura Davies and James Goodall, who valued the experience offered by the placement, this year's School has been another resounding success. But rest on our laurels we must not, as preparation for next year's School has already begun, taking on board the the plethora of valuable feedback provided by staff and students alike. Finally, we would like to thank all the participants and all the staff who have attended the Summer School. It is your support that encourages and allows us to host the Summer School every year. We wish you the very best in the coming year, and hope to see you again in 2018!
James Goodall
MA Classics student
Summer School assistant