A Classics student teaching English abroad
This blog post is written by Dan Engel who did an undergraduate degree in Ancient History and then an MA in Classics with us.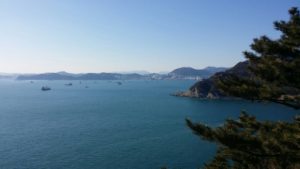 Busan, South Korea
Many things run through the minds of final year students. Will I get the grade I (think I) deserve? Will I stay in touch with my friends? How long can I acceptably use my student card after graduation…and what should I do with the rest of my life?
A lot of people jump straight into graduate schemes, office jobs, or fields related to their studies. I remember when I was graduating, none of those kept my attention. I wanted something different. I didn't want to go directly into a 'regular job' and I still had the urge to travel.
I stumbled upon teaching English as a foreign language, and ended up living in South Korea for almost two years now. I lived in Busan, a city of five million people and 11 beaches, and the majestic island of Jeju, with a population of 600,000. It's been a life changing decision, and one option that students should definitely consider.
Going to a country as vastly different as Korea is to the UK (Neo-Confucian/Buddhist/Christian culture, deep system of patriarchy, respect for elders and well…alcoholism [1]) is such an experience that forces you to grow. You'll be teaching children in one of the leading education systems in the world, living in a country where you (probably) don't speak or read the language (though learning the script is deceptively simple),[2] and eating foods you don't even recognise (I've been here for two years and that still happens).[3]
Why do it?
I'm not going to cut any corners: money is a motivating factor. You earn c. $2,000 USD a month, have your apartment and flight here and back paid for, cheap bills and almost non-existent taxation. Not to mention decent holidays. But the real draw is the cost of living; even going out a lot to eat, drink, travel…you can expect to save $1,000 USD a month. How many jobs straight out of uni let you write off $12,000 student debt?
Living in a country where you don't read/speak the language, one of the most homogenous countries in the world, you grow quickly; you learn to adapt and take care of yourself. Or you don't. Sink or swim, really. A lot of people can't handle that, but if you're adventurous and open-minded you'll thrive.
Having a home-base in SE Asia allows you to explore the Orient in all its wonders. Spend Chuseok(Korean Thanksgiving) in Japan. Go to Vietnam for your summer holidays. Spend winter exploring China or Russia (Vladivostok is about an hour's flight away). Asia is your ocean.
How to do it?
Moving countries is a tricky process, but not too tricky. Just a few humps to get through…and a job to get.
I'd recommend applying for a job using EPIK (English Programme in Korea). It's government run, and they place you in public schools across the peninsula. It's increasingly competitive to get in. But if you're enthusiastic and can show you'd thrive in a strange environment, you'll have no problems.
https://www.epik.go.kr/
Here's the link. Familiarise yourself with the website, do your research to impress on the interview, and send in your application. The sooner the better as spaces fill up fast.
However, there are many jobs in Korea. Private after-school academies, called hagwons are rearing to employ young graduates.
http://www.eslcafe.com/jobs/korea/
Here's a link for hagwon style jobs. But beware: they're not government run, they're primarily businesses, and many horror stories exist about life working for bad ones. So be careful and do your research before accepting.
I'm always happy to help a Swansea student so feel free to drop me a line at 556853@swansea.ac.uk
I hope this blog has shown you some of the more interesting possibilities of post-university employment and inspired you to do some deeper research on the topic. Good luck!
Dan Engel
[1] http://www.koreatimesus.com/the-average-korean-drinks-9-16-liters-of-alcohol-each-year/
[2] http://www.bbc.com/news/education-25187993
[3] http://www.koreaboo.com/interactive/11-terrifying-korean-delicacies-you-may-be-too-scared-to-try-ever/