Catching up with a Swansea Alum: James Lawrence (with Ian Goh)
This post is part of a new occasional series of chats with alumni/ae of our degree programmes involving Ancient World subjects.
Just in time for the end of the Saturnalia, the week-long festival of role-reversal and gift-giving that the Romans celebrated near the end of December, I (Ian) can report that I had the distinct pleasure of chatting with James Lawrence, the General Manager of the English Spirit Distillery, who did a BA in Classical Civilisation with us at Swansea between 2010 and 2013. James is candid and deeply enthusiastic about his time in Swansea, and I am so grateful he could find time away from the pre-Christmas rush, in these dark days for the hospitality industry, to talk with me about his experiences.
Why did he come here for Class Civ (now being rebranded as Classical Studies) in the first place? Well, James had been a grammar school student with five years of Latin, two at GCSE, and a passion for historical perspectives. But by his own admission he was exam cramming and doing only just enough to get by, then didn't make the grades for his top university picks. So, Swansea made him an offer in Clearing, and in the run-up he was deeply dubious about his big move to Wales. Within four weeks of arriving here, though, he was right at home, and not just because he was doing the Gavin and Stacey 'thing' of hailing from Essex; we at Swansea make a virtue of snapping up many students in Clearing, which leads, frankly, to a less homogenous and more interesting student body. And the Welsh welcome is famous, even during the rugby season.
What does James remember best about student life? He had a car and remains evangelical about getting out to the Gower and the Brecon Beacons, the most incredible natural gifts right on the university's doorstep, accessible even if you rely on public transport. He served as a paid Student Ambassador, and tried other new things, like joining Shoreline, the acting club, even performing on the Swansea Grand Theatre stage, Dance Society, despite self-professed two left feet, and dipping into the Student Union and student politics. And yes, he laughs about being a 'Big Man on Campus', taking advantage of the city's buzzing nightlife and cheap prices. But as James tells it, his university career was a tale of two halves.
He began with the mindset, held over from school, of doing as a little as possible while managing to scrape a first. It all changed for him, however, with a Study Trip organised by Maria Pretzler to the Peloponnese (we hope to run such annual trips again as soon as possible). In the course of that, the sixteen students were given hands-on experience with ancient materials in situ, and they bonded with each other. The result of this pivotal moment? Back in the classroom, engagement with every experience to the highest degree: debates, questioning, even playing the 'class gadfly', because it is such a thrill to be argued with and taken seriously. A famous module, 'Classics in the Cinema' (which we are hoping to reintroduce), resulting in a group presentation about Disney's Hercules. Involvement in our flagship Schools Placement module, whose modus operandi is to allow you to pass on your knowledge and get others involved: this is not just about training our graduates to become teachers, but to expand your mind and your skillset through a hands-on approach to think about the topics of your studies in a different way. 
So, what would James say to those who question the use of a degree in 'Very Old Things'? You don't need to know what you want to do in life: Ancient World degrees give you an enhanced sense of perspective, a facility at debating, critical thinking, remembering never to take things at face value, questioning sources, the means to construct an argument and write it down. Being a student, he says, is a full-time gig, so you have to get stuck in. James's career has progressed through different management schemes, including that of John Lewis, encompassing working in the city in data intelligence and digital marketing before his current role: there is no such thing nowadays as dogged linear progression, he rightly comments, and what we must recall about the degree you do is that it's 'not the what but the how'. Despite now running a distillery and visitor centre at Treguddick Manor in Cornwall, he had no idea that this would come to pass: indeed, he didn't write his third-year dissertation about alcohol in the ancient world (one mooted topic) but about the Battle of Sphacteria in the Peloponnesian War! Swansea offers fantastic people, James says, who can help enrich your experience around the nucleus of the passions you have already.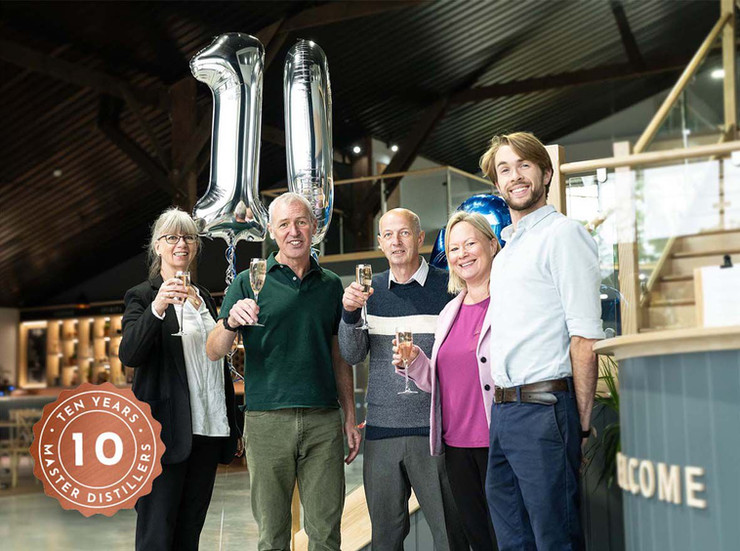 If you are passing Treguddick just off the A30 outside Launceston, please do drop in and say hi to James! And if you want to know more about 'how to party like an ancient Roman', have a listen to an interview Ian did for 'The Ancients' podcast on the HistoryHit channel here.