Breakfast in Swansea, by our Food-Obsessed Admissions Tutor Ian
If you're preparing to come to university in Swansea, I hope you're getting excited! This despite the uncertainty of our pandemic-riddled times, of course. One of the advantages of Swansea is the low cost of living, and we have many greasy spoons where you can nurse the results of a night out. Students have been coping with hangovers since Roman times: the poet Persius (one of those I research and teach) dramatizes just such an occasion in his Satire 3, where the speaker awakes with a sore head to find his housemate pestering him to man up and face the day. The housemate encourages (in the face of the speaker's inability to rise and subsequent complaints) him to continue his study of philosophy, which later on in the poem a soldier with B.O. claims is not enough to cause one to skip a meal. What time would this Roman breakfast be? Persius says it's the 'fifth hour' after sunrise, which is about 11 a.m.; another poet, Horace, two or three generations earlier had breakfast while on a journey through Italy after 10 a.m. and his morning wash.
I arrived in Swansea three years ago, and since then I have been eating filthy but gorgeous breakfasts all over the city. My current leaderboard (of those readily accessible to you: Lezzet, Kath's Korner, Fairdeal, and Vee's will require a car for most) comprises the following: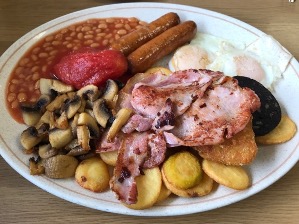 Sam's (the one across from Joe's Ice Cream on St Helens Road)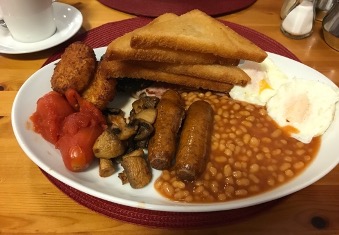 2. Continental (just off the main square in town)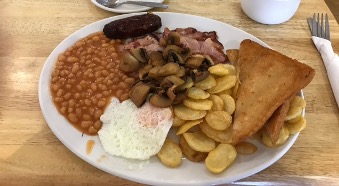 3. Tiffany's (kitty corner from Wilko, up from the bus station)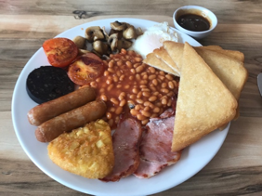 4. Jack's Kitchen (on the High Street down from the train station)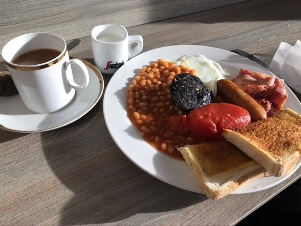 5. Café Janet (in Swansea covered Market, a place of wonder)
Honourable mentions go to Gershwin's, Bertie's (recently opened under new management), Franco's, and my own closest, Marina Café, also under new management. I'm not as enthusiastic as some of my colleagues about Uplands Diner, which has the advantage of being close to much of your student accommodation, or the Kardomah, a 1950s throwback whose precursor was frequented by Dylan Thomas. But you may feel differently!
Welsh breakfasts involve the local cockles mixed with an umami-rich seaweed flavouring known here as 'laverbread'.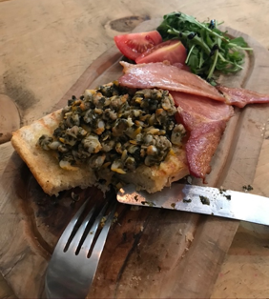 Here's an example from Ginhaus Deli in the lovely mid-Welsh market town of Llandeilo.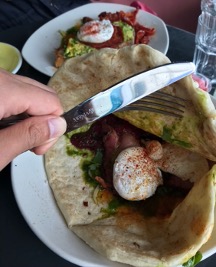 If you're after a fancier breakfast (i.e. are going out with the parents), my best local recommendation is Square Peg coffee house, who do a brilliant riff on Dishoom's bacon naan.
(There are others, such as the Secret, which is directly on Swansea beach, Boo's Kitchen in Mumbles, Rag and Bone Café in West Cross, and Haystack in Manselton quite close to the Stadium. A pop-up called Cwtchitas in Basekamp just off the High St is currently doing brilliant breakfasts, including a superb burrito. And if you can get to Rotherslade, Langlands, or Caswell beaches on the Gower, a little local chain of Surfside Cafés offers quite basic but satisfying breakfasts there by the sea.)
Bon appétit! And stay safe.