Egypt and its neighbours: object-centred approaches to articulating local identity and cultural diversity in antiquity. Funding success and public engagement in the age of Covid-19. – Ersin Hussein.
2020 has been quite a year for teaching and research institutions globally! The pandemic has forced us all (staff and students alike) to react quickly and rethink how we engage and interact with one another – whether in a personal or professional capacity. For many, research has taken a back seat as the focus has been on expediting and maintaining excellent teaching remotely as well as support for each other during these difficult times. The challenges have been met admirably and with tireless energy by my colleagues across the board here at Swansea.
One aspect of university life that has been affected dramatically has been the crucial work that the university's award-winning Egypt Centre does. While the temporary closure of the museum has seen staff, volunteers, students, and visitors unable to 'get hands on' with antiquity (something that this institution does so well with its focus on object-centred research and teaching initiatives), work has carried on remotely to ensure that the local community can continue to come together in a research and social capacity.
By moving many of the museum's research, teaching, and outreach initiatives online (such as its annual Wonderful Things conference), opportunities to seriously rethink how to develop public engagement arose. This blog post introduces my ongoing work with the Egypt Centre that has focused on raising awareness about the museum's lesser known collection of classical artefacts. It also discusses the impact that a generous grant, awarded by the Institute of Classical Studies, will make to this collaboration.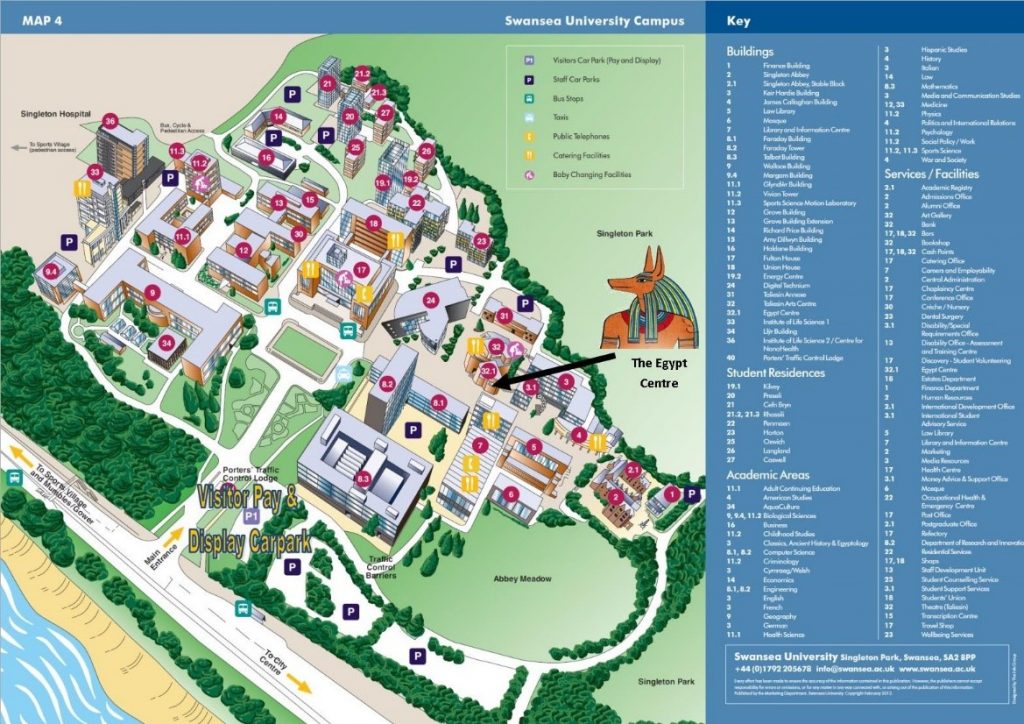 The Egypt Centre houses around 6,000 artefacts – 300 objects of which are non-Egyptian. Since joining the university in January 2018 I have worked closely with the curators and collections access manager to develop initiatives in and beyond the classroom to raise awareness about this lesser understood known aspect of the museum's collection. Over the past two years, this has involved examining the collection behind the scenes independently or with staff and students across the university. For example, in 2019 I was awarded SURGE funding from the university to investigate the materiality of metalwares held by the Egypt Centre – research of which is ongoing in collaboration with the College of Engineering here at Swansea and the School of History, Archaeology and Religion at Cardiff University. Students have had the chance to get involved behind the scenes too and contribute to the process of thinking about how we can better communicate information about our non-Egyptian artefacts by scanning digital slides of landscapes, participating in workshops on a voluntary basis, engaging in handling sessions tied to specific modules, and by attending public talks. Working with colleagues and students across the university is crucial as it inspires us to think even more creatively about how to showcase our artefacts to the wider public and highlights where (and how) demands and needs can be met.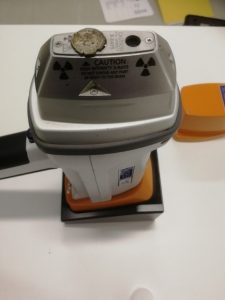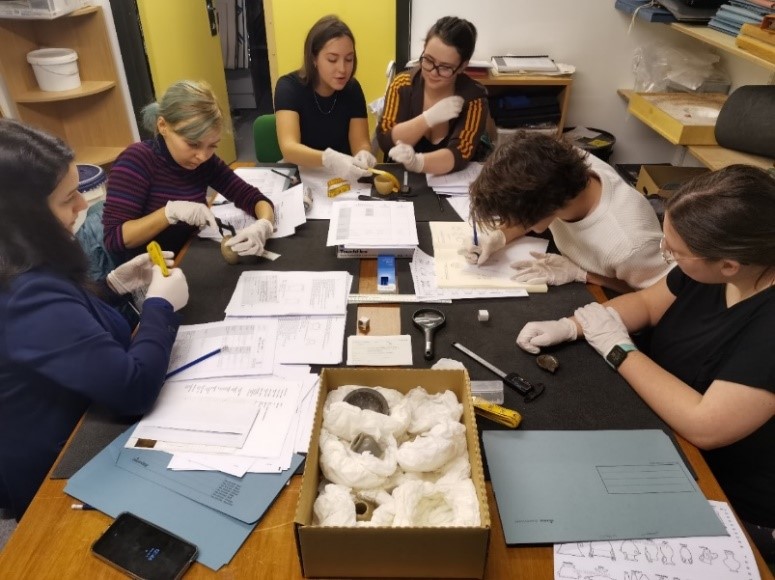 This year, on 26th June, I delivered a paper on the history of Cypriot artefacts held not only at the Egypt Centre but at Swansea Museum. While this was an opportunity for me to develop my ongoing research on the culture and society of ancient Cyprus and the history of Cypriot artefacts held here in Swansea, I was also able to gather feedback using a poll (and the chat functionality on Zoom) following the talk from the audience. Questions posed were very specific regarding general awareness of the history of the collection here at the Egypt Centre and the feedback gathered confirmed our suspicions. The general public (and students) were largely unaware about the Greco-Roman collection … and they wanted to know more! For example, polling showed that 70% of the attendees wanted to see the installation of a new display that showcased artefacts from across the ancient Mediterranean, not just Egypt.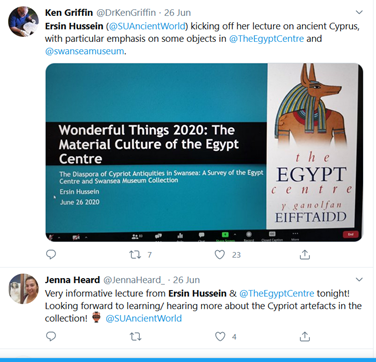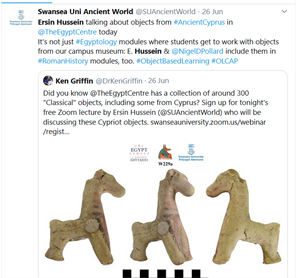 Around a similar time to the talk, the Institute of Classical Studies advertised a call for applicants seeking financial support for developing public engagement projects. Having received a generous donation they announced that they would be able to support two projects for the duration of a year with a one off grant. This was too good an opportunity not to apply for and we reacted quickly to the call. I am pleased to say that we secured one of the awards!
With the need and demand for a new installation made clear, funding secured will be used to install a new display of objects entitled: Egypt and its Neighbours in the House of Life gallery. The function and aims of this will be manifold. It will serve as a catalyst for student and public engagement with a number of topics that lie at the heart of many current debates regarding the world in which we live today, such as racism, cultural diversity, self-presentation, and identity formation. The ancient world is rich with material to encourage meaningful discussion around these relevant topics. Several lecturers across the department of Classics, Ancient History, and Egyptology already offer modules discussing these themes in the ancient world. More than this, Swansea University is one of the few places in the UK offering specialist modules on Egypt, Greece, Rome, Cyprus, Nubia, and the ancient Near East and we really wanted the display to bring together the research that we do in the museum setting not just for our students, but for visitors from school children to the general public.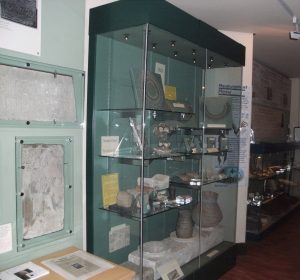 The images below present a proposed outline how the new case could be organised and an idea of artefacts that could go on display.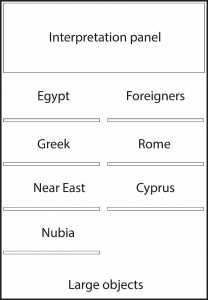 As already mentioned, public engagement in a pandemic is a challenge…but it also provides us with opportunities to rethink and improve our practice!
Bearing the issues of social distancing and remote learning in mind we have thought of a number of initiatives to facilitate and improve engagement. These include developing:
Schools educational activities online for KS1 (ages 5-7) and KS2 (ages 7-11), such as:

Worksheets that focus on specific objects, highlighting connectivity between landscapes, and creative writing exercises.

A highlights booklet (based on the successful Egypt Centre 30 highlights booklet that was launched earlier this year) of ca. 20 objects. This could include:

Entries (ca. 170 words) by staff and students.

Short intros on the different cultures represented in the display.

Specific write ups on the key themes that the display will inspire such as social identity, cultural diversity, tolerance and inclusivity.
The launch of the Egypt Centre's new website is also imminent (8th October 2020!) and means that there are ample opportunities to develop more interactive content for people to engage with the collection remotely. For example, catalogue entries could be accompanied by podcasts, videos, and other audio recordings.
This is ongoing work. Funding secured from the Institute of Classical Studies is crucial to get this stage of my collaboration with the Egypt Centre going. The impact of this stage of the project, and plans for future development, will be measured and guided through polls taken at the end of public engagement talks, questionnaires filled out by museum visitors, and data collated regarding website usage.
Join us on Thursday 10th September at 4.30pm when the ICS will host an online awards event where we will be sharing more details about the project. This is free to attend and all are welcome! Book your place by following the link to the ICS here. You can also follow developments by checking out our various social media platforms or by getting in touch directly. Your feedback (whether you are a student, researcher, volunteer, or member of the public) is crucial to the work we do and we would love to hear from you!
Twitter:
@SUAncientWorld
@TheEgyptCentre
@DrKenGriffin
Blogs:
Email: