Archaeology and Climate Change throughout Wales
This week, Amber Andrews reflects upon the impact of climate change on Welsh archaeological discoveries. More than this, she shares with us her experiences working with local heritage sites and how these can offer essential resources for academic study and future opportunities.  Amber completed her undergraduate studies here at Swansea in 2019. and is currently studying for her MA in Ancient History and Classical Culture.
Placements and Their Importance: Archaeology and Climate Change throughout Wales.
By Amber Andrews
After much consideration of archaeological developments across Wales, it was a no-brainer for me to pursue research on Roman Wales in the final year of my undergraduate degree.  The idea for my dissertation, Roman Wales: The Impacts of Climate Change on Aerial Photography and Influence on New Archaeological Discoveries, came about due to the extreme weather Wales experienced during the summer of 2018. As climate change dried out the ground, hundreds of new archaeological sites ranging from prehistoric hill forts to medieval churches and buildings were exposed and then studied through the medium of aerial photography. These new discoveries shed exciting new light on our understanding of all eras throughout Wales' history, as well as highlighting significant implications for its future. Writing a dissertation in this field, however, requires a vast amount of knowledge of the archaeological scene pre- 2018. This would have caused severe issues for the progress of the dissertation if I had not taken part in a voluntary placement during the summer of 2018.
Voluntary placements offered me a chance to attend archaeological sites and at one exciting site in Carmarthen I got to hold a newly unearthed 1st century Roman bowl (below); it was exquisitely intact. On the bottom of the bowl a flower had been carved into the clay before firing. Parallels of this mark had also been found across Europe indicating that Roman Wales had been more in tune with wider trading networks than has previously been assumed.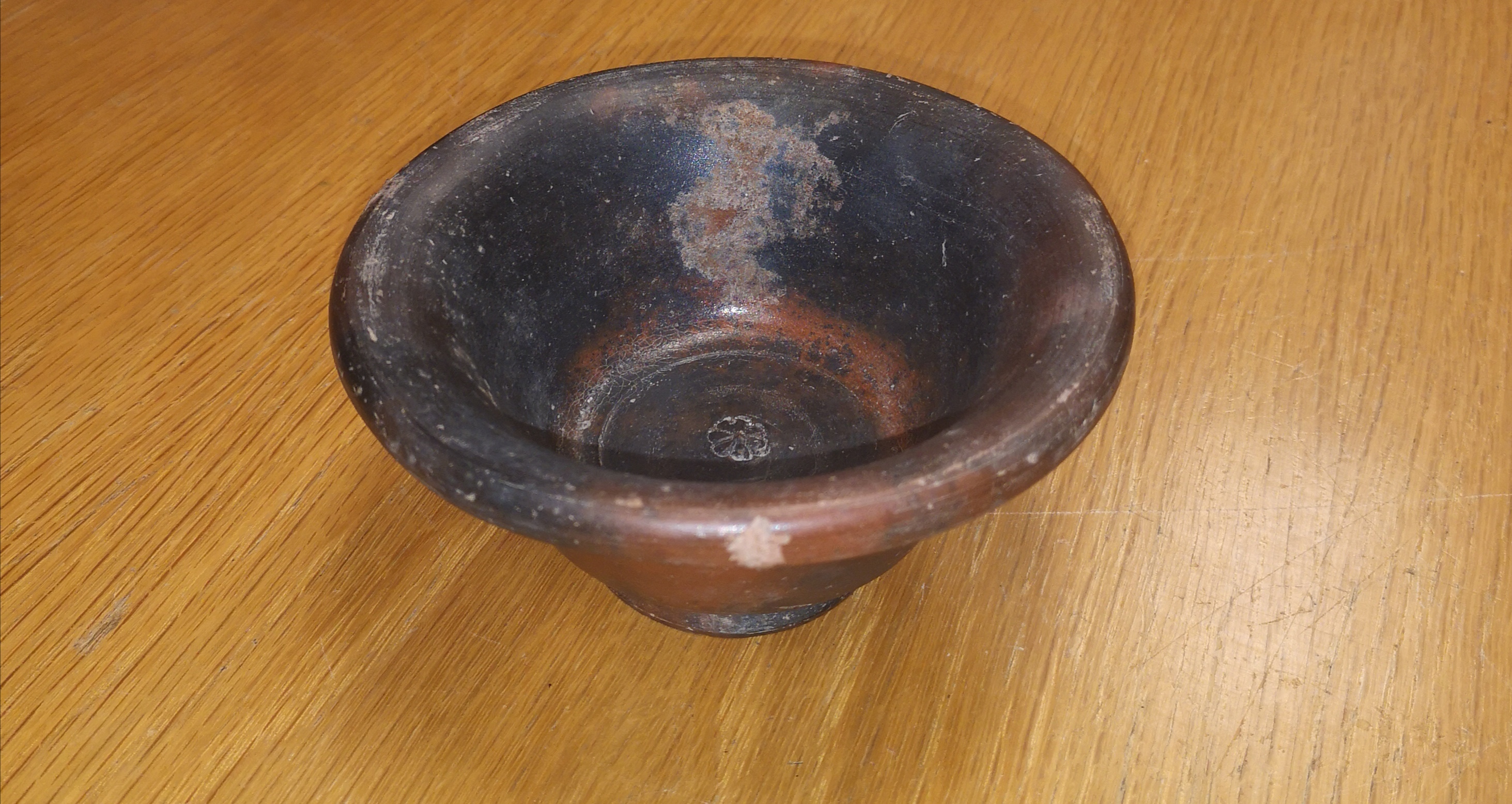 Archaeological site visits also allowed me to meet and discuss ideas about Roman Wales with a number of academics and volunteers who also came to have a look at the new discoveries. During one of these trips I met Dr Toby Driver – an archaeologist and aerial investigator. We discussed aerial photography at length as he had been busy over the earlier parts of the summer, taking flight paths over the lesser explored areas of Wales, searching for newly exposed archaeological sites made visible by the extreme, dry weather. Dr Driver's expertise was invaluable as I researched my dissertation and he granted me access to reports and images that were not accessible to the public. I was also able to run ideas past him regarding archaeological practices and interpretations of the evidence.
When I submitted my dissertation I began to think about future career opportunities. I contacted Toby to see if I could join him on his work and this led to me gaining more experience on another voluntary placement during the summer of 2019 with the Royal Commission for the Ancient and Historic Monuments of Wales. Simultaneously fortunate, yet also not, the weather during the summer of 2019 did not go to the same extreme as in 2018, but there were other opportunities for developing our understanding of the archaeology throughout Wales such as working with The CHERISH Project. This five-year project, run by the Royal Commission for Ancient and Historic Monuments of Wales and the Centre for Archaeology and Innovation in Ireland, aims to close gaps in our archaeological knowledge along the coasts of Wales and Ireland as many potential sites are at risk of being affected by climate change. During my work for them I successfully developed a range of skills such as the ability to use computer software to process LiDAR information taken by flight paths beaming lasers onto the ground. I focussed on six coastal islands around Wales by creating both Digital Surface Models and Digital Terrain Models, as well as creating 3D images of the islands, that highlighted the archaeology present in a clear and aesthetic way. These images are in the process of being placed into the Royal Commission's archives, as well as being posted on the Coflein website for the wider public to use, to bring attention to the wonderful archaeology present around the Welsh coastline that could be at risk from climate change.
Placements such as these cannot be underestimated. Their benefits are palpable and give you experience in a working environment that can be extremely rewarding whilst gaining new skills. More than this they are opportunities to gain work experience with a range of experts, expand your contacts for future opportunities, and broaden your outlook on academic and real world circumstances.