Reflections on volunteering and learning at Swansea's Egypt Centre – by Sam Powell
In this week's blog post Sam Powell reflects upon her volunteering and learning experiences at Swansea's award winning Egypt Centre. Sam completed a BA Joint Honours in Egyptology and Ancient History at Swansea University in 2006. In 2010 she went on to complete an MA in Archaeology at UCL. Sam then worked at English Heritage/ Historic England and had two children before returning to Swansea in 2017 to study part time for an MA in Egyptian Material Culture.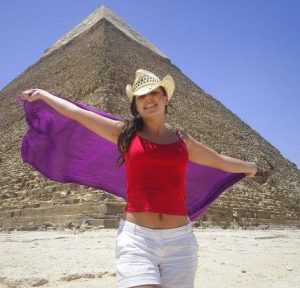 During my undergraduate degree I enjoyed volunteering at the Egypt Centre. It is an absolutely fantastic resource for students and, as well as being home to over 5000 objects, it provides a great opportunity to volunteer as a gallery assistant and gain real experience of the workings of a museum.  The museum opened in 1994 and houses a significant number of artefacts from the collection of Sir Henry Wellcome. The two galleries have a range of objects including coffins, jewellery, furniture and pottery. Unlike a "traditional" museum, there are lots of interactive activities including playing the Egyptian board game senet, a chance to try your hand at mummification (on a dummy-mummy!), and an object handling board, allowing visitors the chance to really examine ancient Egyptian artefacts in great detail.
Given how much I enjoyed my time volunteering at the Egypt Centre as an undergraduate,  I was pleased to find out one of the optional modules for my MA was "Reaching the Public: Object Based Learning". This module was an amazing opportunity to get up close with the objects and learn about the benefits of using artefacts as a medium for teaching.  The history of museums, the creation of conservation reports, catering to different audiences, issues of display, and creating information files for objects were topics also covered.
As part of our assessment we were given the opportunity to choose a topic and to present five relevant objects to an audience. It was a brilliant way to actually apply what we had learnt about object based learning. I chose "depictions of childhood" as my theme and was able to  research my chosen objects, review their object files, which included information about their provenance and how they came into the collection, as well as investigate similar objects for comparison regarding their function and original owners. Although technically an exam, I thoroughly enjoyed presenting my chosen objects to the three participants for my one hour session. It was fantastic to be able to practise answering questions from an audience and to guide them as they drew their own conclusions about the objects they were handling.  My group responded really well to this and it was clear that they enjoyed a sense of ownership over their learning process.
I would highly recommend volunteering at the Egypt Centre, enrolling on a module which enables you to work with collection, or at the very least visit it if you find yourself at Swansea University. Click on the following link to find out more about the Egypt Centre, the volunteering opportunities on offer, and about the active Friends group which hosts monthly evening lectures for those with an interest in ancient Egypt!