Manner Maketh The Man: Displays of Masculinity in Plebs
Note: For the module 'Classics in Popular Culture' (CLC315), students were asked to write blog posts on Classical Reception in the TV series Plebs or Once Upon a Time, and on the comics Asterix or George O'Connor's Olympians. Some of the best blogs are featured on our departmental blog site.
Plebs is a 2013 ITV2 sitcom, created by Tom Basden and Sam Leifer.  It centers on Marcus (Tom Rosenthal), his roommate and best friend Stylax (Joel Fry), and their slave Grumio (Ryan Sampson) and their misadventures in Ancient Rome. The show is a clever mix of Ancient Rome and the 21st century, trying to show audiences that "over the course of 2000 years, people haven't changed."[1]
Of course, the creators acknowledge that the show is not always historically accurate, with episodes focusing on Grumio's never-ending quest to try all the food at the market with the help of a friend's gold credit card, or a group of rowdy Thracians introducing our protagonists to "Bananae".  Because of the show's interaction with modern themes, a viewer with only casual knowledge of Ancient Roman society might assume that much of the interpersonal relationships and personalities of the characters are strictly based on the 21st century. On the contrary, Plebs uses classic theater archetypes and gender norms as well as modern character influences to analyze the way we view masculinity today.
Masculinity
In the second episode of series 1, Cynthia, Marcus' crush, introduces Cassius, a gladiator and her new boyfriend.[2]  Marcus has already run into Cassius, as it happens, at the Roman Baths, and was intimidated by Cassius' masculinity.  Later, at work with Stylax, he calls Cassius' manhood "fearsome, like a boa constrictor," whereas he had just gotten out of the plunge pool, looking less than daunting.[3]  Marcus, our main protagonist, is less than traditionally masculine, falling more in line with the "adulescens, the youthful romantic hero," in Ancient Roman comedy.[4]  In Plautan comedy, the "more farcical the comedy gets […], the sillier the young lover is shown to be."[5]  While Plebs is not exclusively a farce, it does lend itself to farcical situations.  Early in the series, Marcus' actions are often motivated by his attraction to Cynthia, leading to comic situations like trying to sneak Grumio into an orgy in a paper thin disguise. But unlike his ancient counterpart Marcus does not always get the girl, in part because he lacks the self-confidence to see himself as a viable option for the women he fancies.
The episode The Gladiator also features an unexpected example of a man with softer characteristics. Cassius, the titular Gladiator, is introduced as representing everything the stereotypical alpha-man should.  Brash, tough, and muscular, he is even employed in one of the manliest occupations you could have in Ancient Rome. However, throughout the episode, he is slowly revealed to be surprisingly sensitive. He is kind and friendly to Cynthia's friends, acts very caring to her, and he is heartbroken to the point of apathy when she dumps him. Cassius' presence offers an interesting antithesis to Marcus in this episode. While Marcus' sensitivity and unmanly characteristics make him self-doubting and ultimately keep him from winning Cynthia's love, Cassius embraces these aspects of himself, making him much more confident in his masculinity, and therefore more successful with the girl.
It is Cassius' acceptance of all aspects of his masculinity which makes him more than just a one-off romantic foil to Marcus. He becomes an example of what Marcus could be, someone who represents the modern notion that it is okay for men to want herbal tea or to feel emotional after a break-up. Modern masculinity has started to reject the traditional, macho definition of manliness, making the (on the surface) barbaric gladiator perhaps the most progressive character in the episode. Unfortunately for Cassius, Marcus is not ready to accept these aspects of his character, making Cassius' death in combat perhaps symbolic of Marcus' belief that the sensitive man is not ready to survive in society.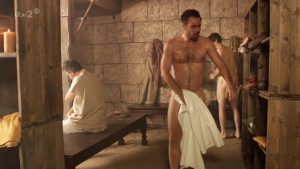 Hyper masculinity and The Beast
The opposite then, of Marcus and Cassius' masculinity, is the hyper masculine, seen in Plebs in the form of The Beast, a gladiator that Landlord hires to help Marcus stack Cassius' next fight against him.
The Beast doesn't have an apparent stock character equivalent, but his character can perhaps be linked to another monstrous character from ancient times, the Minotaur. Though Greek in origin, the Minotaur has several apparent parallels to The Beast that Cassius must face.  Both lack a human face, and both appear larger than life and threatening to our heroes. The Beast, like the Minotaur, is also shrouded in mystery, to heighten his fearful reputation and almost inhuman nature. When Marcus asks whether The Beast is actually a beast or not, the Landlord even responds "I'd say he's of mixed heritage."[6]
All of these factors make The Beast decidedly disagreeable to the audience, which is not surprising, as we often view this kind of toxic hyper-masculinity as unappealing or even dangerous. While ostensibly the Beast would be seen as the peak of manliness, we instead see him as a grotesque monster.  He epitomizes the type of toxic masculinity that we, as a society, have tried to begin moving away from, as we become more accepting of varied representations of maleness in society.  If we accept that Cassius' death is due to Marcus' insecurity in his own masculinity, then the Beast is the tool with which it is done, the idea of the hyper-masculine man.
Ancient and new
Plebs is, at its heart, a show about "taking three 21st-century lads, with all the hang-ups and foibles that entails, and hurling them into history."[7]  The show achieves this with ease, cleverly twisting elements of 21st century comedy and Ancient Roman archetypes.  It also does one of the things comedy does best, masking social critique in humor, delivering important themes alongside laughs.  "The Gladiator" suggests we reassess what it means to be masculine by deconstructing the established character archetypes. Indeed, at their most basic descriptions, these stock characters "cannot stand up to serious criticism, nor is it intended that they should."[8]  They're meant to be analyzed and critiqued, to hold up a mirror to our real life.  Plebs does an excellent job of critiquing the 21st century through its unique combination of the ancient and the new.
Written by Kelley Bennett
[1] Basden, Tom. "Plebs: A Funny Thing Happened on the Way to the Colosseum …" Independent. March 25, 2013. Accessed October 24, 2016. http://www.independent.co.uk/arts-entertainment/comedy/features/plebs-a-funny-thing-happened-on-the-way-to-the-colosseum-8547754.html.
[2] Basden, Tom, and Sam Leifer, writers. "The Gladiator." In Plebs. ITV2. March 25, 2013.
[3] Ibid.
[4] Segal, Erich. Oxford Readings in Menander, Plautus, and Terence. Oxford: Oxford University Press, 2001. pg. 276.
[5] McCarthy, Kathleen. Slaves, Masters, and the Art of Authority in Plautine Comedy. Princeton: Princeton University Press, 2000, 117.
[6] Basden, Tom, and Sam Leifer, writers. "The Gladiator." In Plebs. ITV2. March 25, 2013.
[7] Holland, Luke. Plebs: 'Ancient Rome Allows Us to Bring in Gladiators and Orgies'. The Guardian. September 20, 2014. Accessed October 27, 2016. https://www.theguardian.com/tv-and-radio/2014/sep/20/plebs-roman-comedy-tom-rosenthal.
[8] Marples, Morris. Plautus. Greece & Rome 8, no. 22 (1938): 4.