Ancient History staff excel in Research as Art Competition
The Research as Art competition provides a platform for researchers at Swansea University to convey the importance, emotion, beauty and humanity of their research. This year's overall winner was Ancient Historian Dr Heather Hunter-Crawley. Dr Nigel Pollard was one of the runners-up.
Dr Hunter-Crawley's entry was entitled 'Mirror of Heaven'. It is based on a haunting picture of a silver religious plate from 6th century Syria accompanied by an account of how she, through her research, explores the mesmerizing impact this object would have had at the time of its creation.
"The silver emits a divine light, perhaps the presence of God himself.  For a moment, heaven is close enough to touch"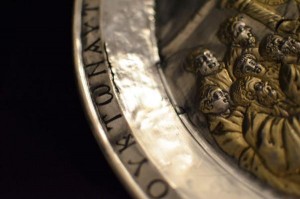 Runner-up Dr Nigel Pollard's entry, created in collaboration with SPIN placement student Stephanie Brown, commemorates the destruction of the ancient Temple of Baalshamin at Palmyra in Syria August 2015. The accompanying photograph was one taken in 1988 and the use of both the original and negative image give a sense of an undisturbed past and an uncertain future respectively.
'My research interests moved on to the field of cultural property protection in conflict zones, but I little imaged how quickly the sites I had studied in Syria would themselves become part of a conflict zone, and threatened, damaged and destroyed by war.'

Congratulations to both members of staff!
To view the rest of the winning entries follow the link bellow: