Week of Work Placements – Rachel Redd, Osian Richards and Mari Clark
Mari Clark, Rachel Redd, and Osian Richards discuss their Week of Work experience in our Department.
I participated in the Swansea University Week of Work with Evelien Bracke and loved every minute. It was challenging but I received great support and managed to succeed at tasks I never thought I would be able to do.
The majority of my week was spent working on the new Classics, Ancient History, and E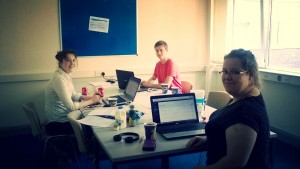 gyptology web page. This was excellent because I have never been taught these skills and it allowed me to expand my knowledge. This task was interspersed with a number of other smaller ones which the other students and I worked on together.
I feel that this week allowed me to grow as both an individual and an academic. Much of the work was focused on making sure everything was completed to an incredibly high standard since it would be used to inform academics and attract students.
My life's dream is to one day become a lecturer so this week highlighted to me one aspect of the work that i had not previously considered. However it did not put me off, but made me even more eager to push towards my goal.
Mari Clark, Classics
The week I spent in the Classics department during the Week of Work placement was one of the most exciting weeks of my semester. The work experience I gained helped me understand the difficulties of my possible career paths. It felt really worthwhile to work on the many projects Evelien had for us. Working on the Summer School program was difficult and involved a lot of cooperation with the other students in the program. However, when we finished we all felt a sense of accomplishment about figuring out how to make it work. Later in the week, I got the opportunity to work with Evelien on a folder to compile her data on the Literacy through Classics program. It was exciting and inspirational to break down the data and work with the feedback given by primary school students. I was inspired by how excited young students were about learning about Classics considering how little I was able to learn about it when I was their age. I found this week to be not only a blast but entirely inspirational.
Rachel Redd, Classical Civilisations and Medieval Studies
I have thoroughly enjoyed my Week of Work placement. At first I was slightly anxious, as I have never experienced any admin work before. However, as the week progressed, I became more confident working with data, emailing people, and working with websites. My tasks included updating a flyer that advertises the Department on social media websites. It was very enjoyable and a creative experience. It was a good feeling to find out that my work on the flyer had been approved, and that it will be used during the Open Day.
The second task involved using data, and extracting the relevant and important information for the Summer School Project. And finally, I had the task of uploading teaching resources on the Literacy through Classics Website, involving editing a website, which was an entirely new experience. After some practice I got the hang of it, and thus I gained a new skill. Therefore, at the end of the week I have gained many skills which I believe will be very useful for me in the future. I highly recommend volunteering for this placement.
Osian Richards, Egyptology and Classical Civilisations