'Interconnective Approaches to the Ancient World' – Postgraduate Conference
19th-20th November 2022
Council Chamber – in the Abbey Building on Singleton Campus, Swansea University
– and online.
Click here for the conference booklets with abstracts and detailed information about the event and venue.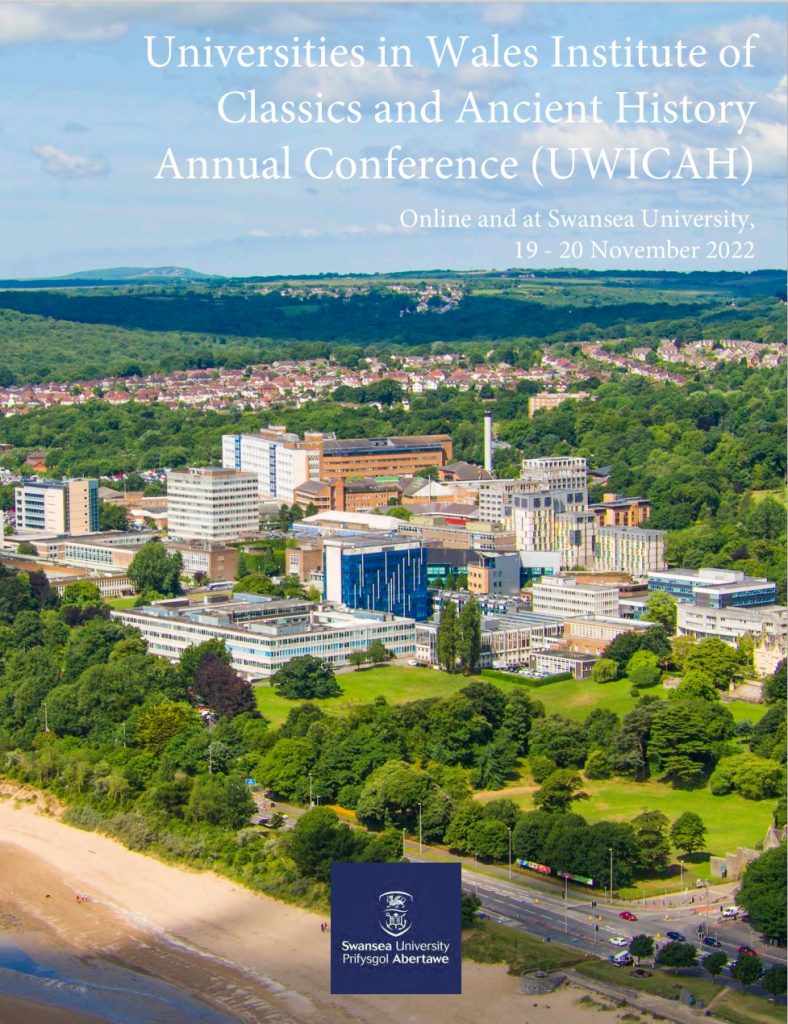 Since 2019, postgraduate students of the three ancient world departments in Wales at Cardiff, Lampeter and Swansea, have been taking turns organising an autumn conference under the UWICAH label (Universities in Wales Institute of Classics and Ancient History).
This year it is again our turn, and this year's conference is organised by Swansea PhD students John Burroughs, John Rogers, Elijah Vieira-Faria and Olga Zapletniuk.
Registration Link
If you want to attend the conference, in person or online, please sign up here.
---
Programme:

Saturday, 19 November
9.00-9.15 Registration
9.15-9.30 Opening remarks and presentation of 2019 volume

9.30 – 11.00 Panel 1: Gender [Chair: Marika Strano]
Alex Macfarlane, Birmingham
Sexual Deviance and Metamorphosis in Greek Myth
Antonia Aluko, University College London
The Roman witch: The intersectionality of magic, ethnicity, and gender in Ovid's Metamorphoses (online presentation)
Alexandra Meghji, University College London
(Re)Shaping the surface: Critical Phenomenology, Affect, and Subversion in moderninterpretations of Epic poetry (online presentation)

11.00 – 11.30 Coffee Break

11.30-13.30 Panel 2: Movement (Online presentations to the conference) [Chair: Jon Burroughs]

Eleutério Abreu De Sousa, Macquarie University
Animals in a foreign land: An interdisciplinary approach to understanding early interconnections between Egypt and the Levant
Yu Song, New York University, Institute for the Study of the Ancient World
Craftsmen as agents in Late Bronze Age Mesopotamia
Catherine Bishop, University of Liverpool
Mapping production and procurement of resin in the Eastern Mediterranean Late Bronze Age

13.30 – 14.30 Lunch

14.30 – 16.00 Panel 3: The landscape and the local [Chair: Elijah Vieira-Faria]

Dominic Pollard, Institute for the Study of the Ancient World
Between the mountains and the sea: A connective approach to Late Bronze Age and Early Iron Age Crete
Frances Pickworth, University of Bristol
Ninety-citied Crete: Localism, alterity, and poetic authority in the Odyssey
George Allen, University of Liverpool
Athena and Trophonius: The use of religious sites in constructing Boeotia
c.16.00 onwards: Introduction to the Egypt Centre and Handling Session

Sunday, 20 November

10.00-11.30 Panel 4: Creating Knowledge and practising ritual (online presentations to the conference) [Chair: Olga Zapletniuk]

Elizabeth Leaning, University of Auckland
Constellations of Knowledge: Religion as a science in ancient Egypt
Joel Curzon, Cardiff University
The impact of foreign religion on Roman civic identities: Astrological power
Anastasia Vergaki, Irish Institute of Hellenic Studies
Towards a theory of ritual in Late Bronze Age Crete: How do we discern and identify ritual actions?

11.30-12.00 Coffee Break

12.00 – 13.30: Panel 5: Intra- and Inter-cultural translations [Chair: Elijah Vieira-Faria]

Gad Barnea, University of Haifa
'The people universally were pleased': The reception of the Behistun inscription andAcheamenid propaganda among Yahwists
Giulia Tonon, University of Liverpool
Untranslatability and the case of Ptolemaic priestly decrees
Lucas Amaya, UJRFBrasil / University of Exeter
Pliny's perception of North Africa: An extension of Rome or foreign lands?
Maria Camilla Mastriani, University of Naples Federico II / Sorbonne
Taking notes on the wall: The case of Verg. Aen. 2, 1, 'conticuere omnes' (online)

13.30-14.30: Lunch

14.30 – 16.00: Panel 6: Construction and corrosion of politics [Chair: John Rogers]

Oliver Clarke, University of Oxford
On the cusp of the Hellenistic era: The Carian poleis and the satrap Asander
Elijah Vieira-Faria, Swansea University
Re-evaluating Seleucid Numismatic evidence: Defaced coinage and resistance in the Seleucid Empire

16.00-16.30 Coffee and closing round-table
c.17.00 Closing remarks

All are invited for dinner after the close of the conference