Student perspectives: starting the new academic year – by Katie Morton
Ersin Hussein: The first few teaching weeks of the 2021/22 academic year have flown by already. If the start of this term is anything to go by, the year ahead promises to be a good one. Face-to-face teaching is back and this, combined with the delivery of teaching sessions via Zoom, presents dynamic opportunities for new and returning students…as well as lecturers! From the perspective of those of us who teach, it has been wonderful to see students engaging with their peers in in-person and remote lectures, seminars, and workshops (e.g., participating in group work and leading lively discussion) as well as respond to asynchronous resources created (e.g., on discussion boards or collating independent research notes to create shared resources for the class). It is clear from talking with students that they share our enthusiasm. In this post, Katie Morton (a second year Egyptology student) shares her experiences of the term so far. To read more about Swansea University's Coronavirus Recovery Plan that has facilitated the safe return to face to face teaching, please visit the following page: https://www.swansea.ac.uk/about-us/coronavirus/
Katie Morton:
Being back at uni for three lectures a week has been really great. Being able to see other students and the lecturers in person has definitively been a real boost to moral for a lot of people, myself included. Troy and Christian [Drs Sagrillo and Knoblauch] are making a real effort to ensure everyone is catered for during online and in person lectures and going the extra mile. Troy, for example, during our in-person lectures will still have a zoom link available for those who are unable to make it in person, ensuring they aren't missing anything important. Furthermore, they are both ensuring the in-person days are more practical and include group involvement which is hard to achieve during a zoom lecture. As a student with dyslexia, being able to access recordings of the online lectures has been a great resource and has definitely made the course more accessible to me.
As part of Introduction to Egyptian Archaeology (CLE214) we have started to have handling sessions during our in-person lecture time, the first of which happen on the 15/10. This also happened to be the first session the Egypt Centre, the university's in-house museum, has been able to do since COVID restrictions came into place.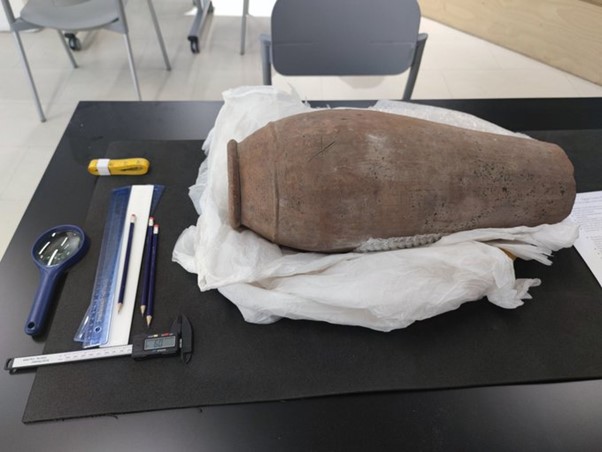 Being able to handle an object in which you are studying is an invaluable experience. Whilst information and photos can be found online about different artefacts nothing beats being able to pick it up and see minor imperfections which would be missed by a camera lens. Also, to know that your holding thousands of years' worth of history in your hands is a feeling you cannot explain. Ken (the museum's Collection Access Manager) was unbelievably helpful to everyone during the session and having his knowledge of the items in his care available to us meant we could ask questions which may not have been answered otherwise.
We look forward to more student perspectives on the blog during the course of the year. In the meantime, if you would like to hear more from our students, check out some of our past posts!