Gaining work experience in the heritage sector – by Pierre Vagneur-Jones
This week's post is a reflective account by Pierre Vagneur-Jones. Having worked in a range of public facing jobs during his early UG studies, Pierre was keen to gain work experience directly in or related to the heritage sector. He took the initiative to approach  ATS Heritage and was employed with them for two summers working on a range of exciting projects. Most notable of these include developing audio guides for The Ashmolean Museum's current exhibition: Last Supper in Pompeii!  Pierre shares with us how the research, interpersonal, and employability skills that he gained during his undergraduate studies enabled him to apply for work and how he developed them in his posts. He also discusses the impact of digital applications, such as virtual reality, on how visitors engage with history at a range of heritage sites and museums. Pierre graduated with a degree in Ancient and Medieval History (Swansea) last year and is currently studying for his MA in Medieval Studies. He writes: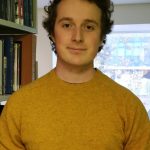 During a family visit Hever Castle we were given iPods with a multimedia tour on it. I thought it was pretty cool as whenever I had used an audio-guide in the past it had looked like a massive black brick. The guide had video interviews, quizzes and further reading about each room. Following the tour, I looked at the back of the iPod case the guide was in and jotted down the details of the company who had made it. The next day, I emailed the company and wrote something along the lines of, "Hey, I think your product is cool … also, if you have an internship open this summer then I would like to apply". Obviously, my letter was professional in tone and I attached my CV to demonstrate my suitability for the post should it be open. That afternoon the boss of the company (this isn't a brag, the company is just pretty small) responded to me and invited me in for an interview at my earliest convenience. The next week I started work!
For that summer, I was assigned to work with the Senior Producer who initially tasked me with proof-reading scripts for multimedia guides and sourcing photos of the sites in question. A challenging element of the job was having to assemble 5000 multimedia guides by putting them in their cases and sealing them with screws and hot glue for Buckingham Palace in two days (I swear I couldn't feel my fingers after the first day!). Proof-reading scripts about ancient and medieval sites were my favourite tasks and I managed to fix quite a few historical inaccuracies in some pertaining to the medieval kings of France. It certainly beat my earlier experiences of working at the Butcher's or the local pub. More importantly, it gave me invaluable experience working with a heritage company and demonstrated that I could apply skills that I had developed during my studies (such as conducting research, sourcing appropriate materials, proof reading and fact checking, and working unsupervised on a project) to this context.
After the final year of my undergraduate study, that is to say last summer, I contacted the company again and asked if I could be assigned jobs with more scope for developing these skills and with more responsibility. My initiative paid off. Over that summer, I was sent to sites such as Buckingham Palace and Bletchley Park. I was involved in discussion with clients about what they wanted tour of their site to be like and how to best present the artefacts on show in the context of a multimedia guide. I also helped produce the multimedia guide for the Last Supper in Pompeii exhibition which is currently on-going at the Ashmolean. As an Assistant Producer, I was expected to edit the scripts in both English and French, as well as quality-check the guides themselves throughout the process. It was fantastic working for an exhibition displaying items that I had seen with my own eyes in the museums around Pompeii and Naples the year before on the department's Ancient and Historic Places module and study trip. For example, the near-intact loaf of bread (that I also used as the subject of an essay in the Roman Economy module) and the numerous famous frescos of Vesuvius. As the exhibition came out right at the beginning of the summer, I was also tasked with keeping up with on-going edits to the tour. If the museum or any visitor found a factual error in the guide it was important that these were amended right away.
Whilst not necessarily exactly what I want to be doing following my Master's degree, working directly with an exhibition related to the ancient world gave me an in-depth understanding of how museums run as a whole, how they put exhibitions together, and how they communicate ideas with a range of audiences. Moreover, it was also simply a fun experience and I really enjoyed seeing a project come together and be released!
Working as a "Hands on History Guide" at a castle during my first year of undergraduate study made me appreciate how important the medium through which we learn things is – most children were engaging with the history around them because of the way they were learning it, not necessarily because of the subject matter itself. The most interesting part of working for the multimedia guide company was seeing how technology could be used when interacting with history. Other projects I worked on were focussed on streaming the tour directly onto phones, so that visitors could walk around at their own pace without having to worry about handing a big clunky device. Additionally, advancements in virtual reality and augmented reality mean that we can have guides which display a 3D representation of what the environment would have looked like hundreds, if not thousands of years ago. Something which was of great use to the museum curators I worked with was the statistics we could extract from the multimedia guides regarding visitor interaction. It was possible to asses which rooms in a given castle people spent the most time in and which areas people skimmed past. At a more simple level, works of art in famous galleries have been digitised in order to be accessible to a far wider audience. The Louvre's "Léonard de Vinci" exhibition has taken full advantage of these technologies, using virtual reality and interactive multimedia guides throughout. These are important factors to consider for the future of the heritage sector because they are not only changing the accessibility of historic sites, they are changing the way we approach and interact with history.
In Wales alone there are numerous opportunities to get involved in this. Every year in Aberystwyth, the Royal Commission on the Ancient and Historical Monuments of Wales holds the "Digital Past" conference, which focusses on exactly this – how technology and heritage works together. Their website lists these applications of digital technologies (e.g. Digital surveys – Terrestrial Scanning, Geo-physics, LiDAR, Photogrammetry, etc.; 3D modelling and reconstruction; Augmented Reality, Virtual Reality; 3D printing and e-publication) and demonstrates that the possibilities for engaging with history, and gaining fresh insight using these are, endless.
I started my job search at the beginning of my undergraduate degree with the simple intention of building my CV in a general sense. I didn't expect that I would be able to secure such engaging jobs that put my research and interpersonal skills to use! Without doubt, these invaluable experiences have confirmed that I want to pursue work in the heritage sector when I finish my Master's degree.